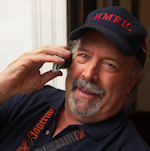 There's a line in the Allman Brothers song "Midnight
Rider" that says "the road goes on forever." I've spent
the better part of my life on that very road they
describe. But there's also a great song by Buffalo
Springfield called "Go And Say Goodbye", and so it is
at this time I would like to announce that at the end
of this current leg of the Little Feat Tour (06.22.08),
I will be stepping down as Tour Manager.
I've thought long and hard about this decision; agonized over it in fact. I have never worked with a finer, nicer, group of musicians and crew, that I am proud to say are friends as well. The fans have also been amazing: Their time and devotion to Little Feat speaks volumes, especially the grass roots effort that spawned the POC's and support group, which has made my job so enjoyable.
I will miss this unique Rock 'n' Roll Family called Little Feat tremendously. My humble words will never be able to express my deepest admiration and respect for all of you in this extended family. Don't worry, I'll be keeping an eye on things from home as I finally will be able to devote a lot more time to my "off-road" life with Jodi. I'll never be further than an email or phone call away.
Thanks to you all for enriching my life in ways I never thought were possible, mere words cannot express this enough. So goodbye for now, I'm sure we'll see each other "Down The Road".
--Denny Jones