Click Here to check out this great interview with Bill Payne and others from 1976
Don't miss this opportunity to post your questions for Bill Payne

Your chance to ask questions to the Little Feat man, Bill Payne in a rare live Google Hangout. Got a question you've always wanted to ask Bill? Now is your time! Fans can submit their questions to www.BillPayneHangout.com before Tuesday, May 6 at 11:59PM EST. Select entries will be presented to Bill Payne in the Hangout, with the three most interesting questions earning an invite to join Bill in the chat! This session will be released as a mini series, available on YouTube and www.BillPayneHangout.com.
Don't miss the return of
DEAD FEAT
Anders Osborne, Bill Kreutzmann, Paul Barrere and Fred Tackett of Little FEAT, Billiy Iuso and more performing tunes from the Grateful Dead, Anders Osborne, Little FEAT and MORE!!
at the 3rd Annual Nolafunk JazzFest Series

May 3 and 4 2014

Republic, 828 South Peters, New Orleans LA
$42.50 Advance - $50.00 DOS

Tickets go on sale Thursday December 19, 2013
Get $10.00 off when you buy tickets to both shows.
Ticket Link: http://tktwb.tw/1hXMibv

Makes a great holiday gift!!!

THE NOVA TRAIN IS RUNNING!

Hello, I'm Paul Barrere. Some of you may know me from my 40 plus years of work with the band Little Feat, but today, I am here to tell you about my latest work with Roger Cole. Roger is a wonderful musician, producer and writer. We have joined forces and recorded "Riding the Nova Train" - a juicy little 10 song CD filled with fun. We're looking to raise some capital need to feed the beast and the marketing wheels need greasing.

I really love this project and have become fully invested in its success, knowing that with increased marketing, we can make it a smashing success!
So come on now and get onboard and help us give the world some fine ear candy!
Click here for more information.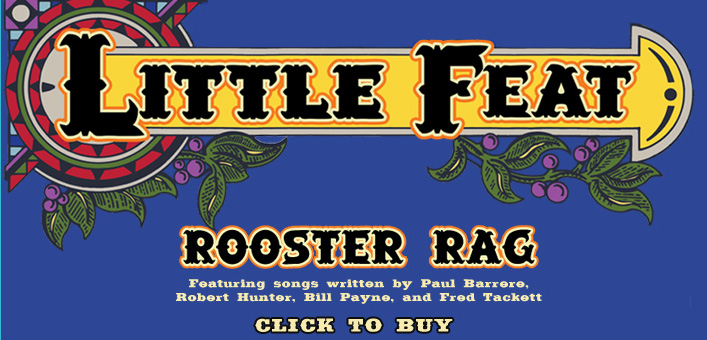 Richie Hayward - 1946 - 2010
Visit Bill Paynes Photography Site