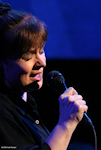 For more than 15 years, Shaun Murphy was an integral and dynamic force in Little Feat that brought a global fan-base to their "Feat." She captured our hearts with her class and style, and blew us into tomorrow with her incredible voice. She has pipes that are unrivaled. She is a rock-and-roller, a blue-eyed soul sister, a charismatic professional who works – and has worked the big stage with the best of them. She brings it every night. You can't ask for anything more. That's why so many of us love her and the contributions she has made to the American music
scene.

Shaun's passionate vocals are straight out of the Big Easy by way of Detroit. Sass and class.
Excelling at lead, harmony or backup. A formidable, commanding stage presence. But Shaun's
performances are only part of the story here. She reinforced that stage persona by being a
great and caring friend – graciousness beyond reproach – and has always had time for fans. She
always makes it a point to support people in need.

On Friday, February 27, 2009, we learned of Shaun's departure from Little Feat. Here is an
excerpt from a message she sent to Feat Fans and the Little Feat community.

"I must say that I have never met such an incredible bunch of folks in my life, you have
become my friends. I will miss you all very much. You are such good people with open hearts
and arms, I fear I'll never run across your likes again in this world.
"I can no longer speak for the band, as it were, but I know they feel the same about you too. I
have only wanted to do my very best for them.
"Thank you all for being there, you are the best!!!!!!!!!!"
Love ya always,
Shaun


Shaun is a solid human being and singer extraordinaire. It explains why we care about her, why
we have a need to share stories about her and our photos of our times with her. Shaun means
so much to a great many of us. That's not hard to understand if you know her. And if you
don't, now's your chance to see what she's all about.

This website is dedicated to Shaun's years with Little Feat. It is an outlet for you to share your
stories and photos; to sign the guestbook and tell Shaun what she has meant to you and wish
her the best; to make a contribution to her wellbeing as she waits for another door to open in
the music industry. Take a moment to check out some of the songs and videos that have been
set aside for your listening and viewing pleasure. There are professional photos, fan photos and
historical photos of Shaun's colorful career in the music biz. So get comfortable. Turn up some
Shaun and explore. You'll be glad you did.

We have seen time and again where Little Feat fans have stepped up to lend a hand when
someone in the Feat family needs a help. Well, Shaun now finds herself in that sort of fix and
if you'd like to help her – and any contribution will – here's the easiest way to get involved.

Below is a list of ways to help out our friend, Shaun.

1. Donate directly to her PayPal account. Follow this link to
PayPal
. Shaun's account
is under her email address:
featseven@comcast.net
. The name on that account is Shaun's
married name, Shaun Mariani, and that's how it will show up once you have made a
donation.
2. Consider buying one of Shaun's Custom Camp Shirts. You won't be disappointed with the
quality and you'll work directly with Shaun to design the shirt of your dreams. Contact
Shaun directly for pricing and more details
HERE

3. Tom Plant is raising money for Shaun by selling 8.5 x11 glossy color prints of Shaun, visit his
web site
HERE

4. Guy Vickers and a team of other volunteer musicians have produced their own CD of
Shaun's songs, contact Guy to arrange purchase of this CD,
HERE
.

Please know that everything you send Shaun's way will help. It's your chance to show her how
much she and her music matter to you, to let her know she's in your thoughts and prayers.
Please remember, every contribution or shirt purchase matters and helps Shaun directly and
immediately. And know that every word of encouragement and memory you preserve here will
remind this wonderful woman how much her presence and talents have enriched our lives.

Thank you for visiting this page, for helping to make a difference for Shaun and for sharing.
Time – and your conscience – loves a hero who steps up when someone we all love is in need.
Here's your chance. Send something Shaun's way: stories, photos, support, etc. It will be
appreciated greatly by everyone who visits our Celebration Of Shaun's Career With Little Feat.

By: chris cafiero, joe kosack, paco